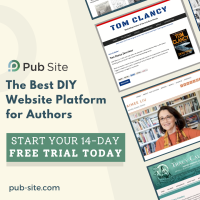 Author Websites Made Easy
About Pub Site
Wondering how to create an author website? With Pub Site, you have the power to take control. Our user-friendly DIY website platform empowers you to effortlessly build a professional author website. We're here to make your life as an author and publisher easier so you can focus on writing and publishing the best books possible. Have questions? Check out why you should use Pub Site.

Meet the Founders
John Burke, Co-Founder
John Burke is the co-founder of Pub Site, and the COO of FSB Associates, a publicity firm specializing in promoting books and authors on the web. Burke worked for several publishers including Crown, McGraw-Hill, Addison Wesley, and John Wiley, as well as in bookstores, before joining FSB Associates to launch its website design and development efforts. Their first website — one of the first-ever author sites on the web — was for Sue Grafton. Since then, John has developed hundreds of author and publisher websites, ranging from one book to over a hundred.

Fauzia Burke, Co-Founder
Fauzia Burke, author of Online Marketing for Busy Authors, is the founder and president of FSB Associates an online book publicity firm, co-founder of Pub Site a platform for building author websites, and a consultant and coach for authors who need help navigating the book marketing and publicity landscape. Before starting FSB, she worked for Henry Holt and John Wiley. Fauzia has promoted books by authors such as Alan Alda, Arianna Huffington, Deepak Chopra, Melissa Francis, S. C. Gwynne, Mika Brzezinski, Charles Spencer, and many more. To learn more about Fauzia's journey, read her profile in Publisher's Weekly.


Frequently Asked Questions

What is Pub Site?
Pub Site is a user-friendly website builder specifically designed for authors. It provides a platform for authors to create professional websites to promote and sell their books.
Who can use Pub Site?
Pub Site is designed for all authors, regardless of the number of books they've written or their technical expertise. It's a DIY platform that's easy to use. Many small publishers, book publicists, and literary agents have also used Pub Site for their websites.
How much does Pub Site cost?
After a 14-day free trial, Pub Site costs just US$19.99 per month. This fee includes hosting.
What kind of support does Pub Site offer?
Pub Site offers comprehensive email support to help you build and manage your website. You can contact our support team for assistance and visit Pub Site Help Website
Do I need any technical skills to use Pub Site?
No, Pub Site is designed to be user-friendly and does not require any coding, designing, or technical skills. Using simple tools and templates, you can build, customize, and update your website.
Can I sell my books directly from my Pub Site website?
Yes, you can link to multiple booksellers easily, and Pub Site also includes eCommerce tools that allow you to sell your books directly from your website.
Can I integrate my social media accounts with my Pub Site website?
Yes, Pub Site allows you to link your social media accounts to your website, helping you guide potential readers to your social media channels.
Can I use my own domain name with Pub Site?
Yes, you can use your own domain name with Pub Site. You can register a third-party service if you don't already have a domain name.
Can I start with a basic website and add more features later?
Yes, Pub Site is designed to grow with an author's career. You can start with a simple website and add more complex features and functionality as you need it.
What makes Pub Site different from other website platforms?
Pub Site is specifically designed for authors and publishers and their unique needs. It's created by book marketing experts who understand the book industry, and it's trusted by renowned authors and industry professionals. Start your journey with a 14-day free trial - no credit card needed. After your trial, continue enjoying our services, including hosting, for US$19.99/month.